Sante Marine
Boat Propeller Sales
CALL 216-771-7767 FOR
NEW PROP SPECIALS!
Sante Marine carries these quality propellers:
Michigan Wheel Propellers
Quicksilver / Mercury Propellers
Ballistic Propellers
AmbushPropellers
Power Tech Performance Propellers
Federal Propellers
Ambush / ACME / OJ
Volvo / Penta Propellers
And Many More …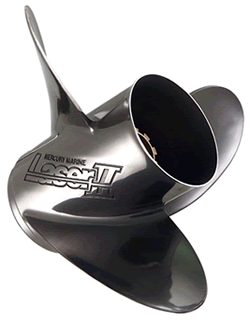 Sante Marine's boat propeller sales include a wide variety of makes and models. We choose top quality brands of aluminum, Nibral, and stainless steel props.
Consignment Shoppe
Want to sell your old propeller? Let Sante Marine help with our consignment program! All we require is that the prop is in working condition or repaired when you leave it with us. We will match it with a new owner for you.
Sante Marine
Propeller Shop
Sante Marine Used & Reconditioned Boat Propellers
Sante Marine can repair blades and hubs on aluminum and stainless steel propellers, as well as bronze and Nibral boat propellers. We have a full selection of new props, plus a great assortment of repaired aluminum propellers and high performance stainless steel propellers. Stop by to see if we have a prop that fits your needs, or for that all-important backup propeller.
Our other services include re-pitch of a propeller, repairing a bent or broken skeg, and cavitation plate repair. We also provide custom made boat shafting as well as shaft straightening.