Landing Loop: A Revolutionary Boat Docking Tool
A boat docking tool that helps say goodbye to the banged up knees, twisted ankles, broken arms and costly repairs that can happen while docking a boat. The Landing Loop™ can provide assistance by extending a docking line to a cleat or piling without requiring you to jump off your boat. With an 11 foot reach, the Landing Loop™ will become your favorite docking tool.
—- Just reach for your Landing Loop —-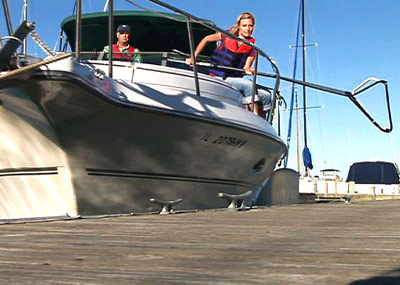 Use the Landing Loop…on any size or type of boat.
Landing Loop is light weight, simple to use & has no moving parts.
Use it with 1/2-inch, 5/8-inch or 3/4-inch, 25-35 foot docking line.
Use it whenever there is no one on the dock to assist you in docking.
Tie-up to a Cleat, Piling, Post, a Barge, or another boat.
Complete DVD instructions included in package.
Detachable head for easy storage.
Collapsed length of pole is 45 inches – extends to approx. 11-feet

Sale Price: $69.95
(Regular Price: $79.95)
Contact Sante Marine for more information at
216.771.7767
Never jump off your boat or try to lasso a cleat,
piling, or pole again while docking any boat.